Red Mango
By
admin
| | Category:
Retail
|
Comments Off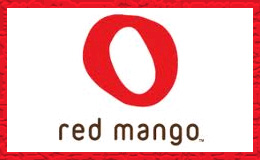 Red Mango Yogurt & Smoothies
Telephone: 914-305-4478
redmango.com
104 South Ridge Street
Hours:   Sunday – Thursday  11AM – 10PM
Friday & Saturday 11AM – 11PM
We're Red Mango!
Sweet inspiration.
You don't see red mangoes often in stores – but once you've tasted one, you'll never settle for anything less. Mangoes only turn red when they reach the peak of ripeness. That's when they are the most delicious, and nutritious. Our name, Red Mango, is a symbol of our commitment to using only the best all-natural ingredients for our frozen yogurt, smoothies and parfaits.
Many, many spoons ago.
You know that frozen yogurt mania sweeping the nation? Yeah, we started it. Our founder, Dan Kim, opened the first Red Mango in 2007. Today, there are over 200 locations nationwide and yes, every spoonful is still as good as the first.
Zagat ranked us #1. Twice.
Not just in one category, but two: "Best Smoothie/Frozen Yogurt" and "Top Healthy Options within the Quick Refreshments Chains". How cool is that!