Rye Ridge Pharmacy Grand Opening Celebration is THIS Saturday!
By
admin
| | Category:
Featured Stores
|
Comments Off
Rye Ridge Pharmacy Grand Opening Celebration is THIS Saturday!
Written by Anna Leder for Rye Brook's Hamlet Hub
http://news.hamlethub.com/ryebrook/life/4234-rye-ridge-pharmacy-grand-opening-celebration-is-this-saturday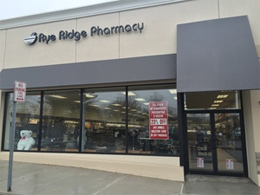 I love new, always have, always will.  That being said, I was devastated when Finches and FDC left our shopping center.  I felt that nothing could replace those two shops.  And perhaps nothing will.  But Rye Ridge Pharmacy is certainly striving to!  And they are pretty fabulous.  There's way more that meets the eye.  I was urged to check it out by one of my best friends who did all her teacher holiday gift shopping there.  They wrapped beautifully (complimentary) and had a huge assortment of jewelry (costume and more high end), scarves, hats, bags, home goods, candles, soaps and on and on.  Truly a gift for everyone.  When I walked in I was honestly shocked.  This was no regular pharmacy.  It was beautiful and new and had everything I needed and wanted, and plenty I didn't need but wanted anyhow

.  There were school supplies too!  And greeting cards!  Perfect.  One stop shopping.
When Finches closed, my prescription was transferred to another pharmacy and I was concerned.  The change however, was actually fine and easy.  What I found to be a problem was the line to pick up my prescription!!  I also don't love that if I have a sick child, I don't necessarily have a way to get the script.  Rye Ridge Pharmacy delivers (FREE)! Just as the old family type pharmacies did.  Transferring scripts is super easy, they do all the work for you! And right now, if you transfer your scripts, they'll give you $10 to use towards other purchase.
This weekend, Saturday, February 11th, don't miss the Grand Opening celebration!  There will be balloons, raffles, cotton candy, giveaways and a chance to meet the head pharmacist! So check it out and see why Rye Ridge Pharmacy is my new favorite place!
Learn more, including how to transfer your script right here!
In their words, a little about their pharmacy…
"Welcome to Rye Ridge Pharmacy – an independently, family-owned boutique pharmacy nestled in the Rye Ridge Shopping Center in Rye Brook, NY. Rye Ridge Pharmacy is a new location for Charlene Jacobi and Abe Rutman, who are long-time partners in the much-loved Town Center Pharmacy in Armonk, NY and Bedford Pharmacy in Bedford, NY.
We strive to offer an unparalleled level of customer service and maintain one of the industry's most knowledgeable staff. Our pharmacy prides itself on personalized care with fast, friendly service and the highest quality medications. Rye Ridge Pharmacy utilizes state of the art technology to process prescriptions quickly and efficiently, accepts most prescription plans, and offers convenient house charges.
In addition to being the go-to destination for home remedies, Rye Ridge Pharmacy strives to carry the latest health and beauty products, cards, toys, jewelry and gifts. Our extensive selection includes both fashion-forward and traditional products that meet our customers needs and tastes. From the most stylish gems to the perfect frame, we are always on the pulse of the latest trends.
Rye Ridge Pharmacy is a member of The Rockland-Westchester Pharmaceutical Society, Independent Pharmacy Association, Pharmacist Society of the State of New York and others.
Stop in, refill online or call us with any questions you may have!
SERVICES
   Prescription Fulfillment (in-store, phone, and online)
   We will call Doctor for refills and Prior Authorizations
   Prescription transfers
   Patient Counseling & Insurance Plan Advocate
   FSA & HSA Cards Welcome
   House Charges
   Free Gift Wrapping
PRODUCTS & SPECIALTIES
   Health & Wellness
   Homeopathic
   Beauty & Spa
   Tabletop
   Jewelry
   Fashion Accessories
   Games, Toys & Books
   School Supplies
   Vitamins
   Greeting Cards and Wrap
   Hair Care
   Gifts
   Cosmetics