Rye Ridge Shopping Center and Rye Brook featured in the NY Times
By
admin
| | Category:
Featured Stores
|
Comments Off
Click here to see Rye Ridge Shopping Center and Rye Brook featured in the NY Times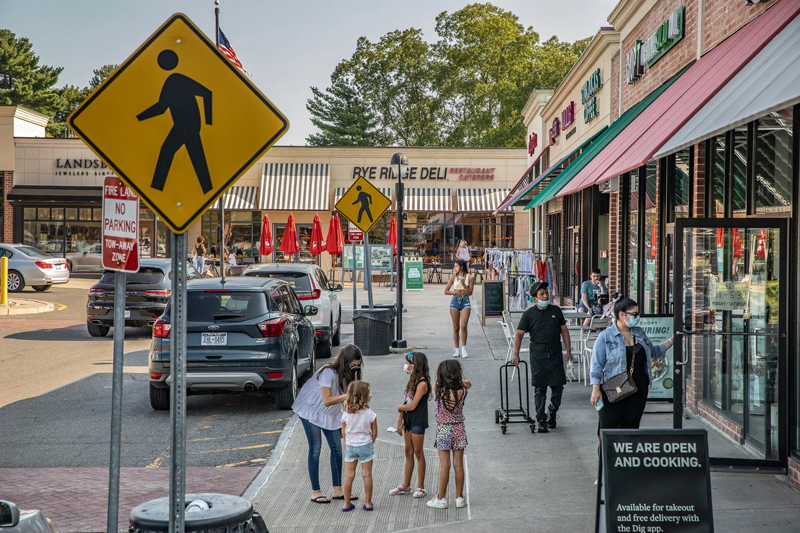 LIVING IN
Rye Brook, N.Y.: A 'Low-Profile' Village With Good Schools
In this southeastern Westchester community, 'you don't have the showiness that you do in some of the nearby towns
https://www.nytimes.com/slideshow/2021/09/01/realestate/living-in-rye-brook-ny.html
Tony Cenicola/The New York Times
By Susan Hodara
Sept. 1, 2021
Lee Freund likes to say that his family's house came with a dog. That's because, two days after he and his wife, Jackie Freund, moved in with their children, Jordan, now 16, and Brooke, 13, Ms. Freund surprised them with an Australian labradoodle puppy. They named him Teddy.
Ms. Freund, 50, is the owner of Jackie David Skin Care, in Manhattan. Mr. Freund, 51, works in sales (currently from home, prepandemic in Manhattan) for a software company. Teddy epitomized the family's new suburban lifestyle. In August 2016, they traded their 1,500-square-foot condominium in Long Island City, Queens, where they had lived for 12 years, for a home in Rye Brook, a leafy village in southeastern Westchester County. "We didn't want to have a dog in the city," Ms. Freund said. What they wanted was to give their children an environment similar to the ones they'd had growing up in suburbia. And they were determined to leave New York City before Jordan started middle school.
They narrowed their search to four Westchester communities within easy commuting distance: Bronxville, Scarsdale, Ardsley and Rye Brook. They were drawn to Rye Brook by the caliber of its schools, and their decision was clinched by the home they found: a 2,795-square-foot attached townhouse with three bedrooms. They paid $1,575,231 for the home, which was built in 2016 in the Enclave at Rye Brook, a then-brand-new Toll Brothers development. "We like 'new,'" Ms. Freund said, calling their move "the best decision we ever made."
The pretty Blind Brook runs through a residential area of the village.Credit…Tony Cenicola/The New York Times
Paul S. Rosenberg, Rye Brook's mayor, said a growing segment of the village's approximately 9,500 residents are families attracted by the schools and the location. "With the pandemic, we've had young families moving in at a faster pace than ever before," he said.
Another appeal is the greenery. Mr. Rosenberg said about 18 percent of the village is open space, encompassing golf courses and woods as well as eight well-maintained parks. He touted Rye Brook's 26-year status as an Arbor Day Foundation Tree City USA community, noting its strict regulations on tree removal. "Our streets are lined with trees," he said.
What You'll Find
Rye Brook, a 3.5-square-mile sliver of a village roughly 30 miles northeast of Manhattan, was established in 1982, making it Westchester County's youngest incorporated village.
One of three villages in the town of Rye – along with Port Chester to the southeast and part of Mamaroneck (which, exemplifying Westchester's often complicated boundary demarcations, is separated from Port Chester and Rye Brook by the city of Rye) – it is wedged between the towns of Harrison, N.Y., and Greenwich, Conn. The northern tip comprises part of Westchester County Airport; the southern tip touches the city of Rye.
Commerce-wise, Rye Brook has two large office complexes and two shopping centers: Rye Ridge Shopping Center, with dozens of boutiques, restaurants and fitness options, and the smaller Washington Park Plaza. The rest of the village is primarily residential, speckled with homeowner associations and neighborhoods like Pine Ridge and Red Roof, bordering Pine Ridge Park, and Country Ridge, delineated by the looping Country Ridge Drive. The newest homeowner association is Kingfield, with 110 luxury townhomes. The largest is the 261-home BelleFair, built in the 1990s near the airport.
Information from the town of Rye's assessment office showed that Rye Brook has 1,939 single-family homes, many of them ranches and split-level houses, in addition to 830 single-family homes and townhomes in homeowner associations. There are 453 two- and three-family homes and seven rental buildings with four or more units, including a 32-unit senior complex. There are also two condominium complexes with 248 units, as well as two small condominium complexes that are designated affordable.
What You'll Pay
Melissa Kaminsky, an agent with Julia B. Fee Sotheby's International Realty, said home prices in Rye Brook start in the $400,000s and can climb above $2 million, usually for new construction. "The sweet spot has been between $700,000 and $1 million," she said, "with an uptick in sales in the $1 million to $1.5 million range."
Since early in the pandemic, inventory has remained low, she said, and as a result, "people are pricing their houses higher, and they are getting what they want."
"Covid changed everything," said Anna Leder, a saleswoman with Houlihan Lawrence. "But as crazy as it's been, I feel like it's slowing down. Last year people were buying houses sight unseen. Now, some homes get snatched up, but others are sitting. We're still getting bidding wars, but it doesn't feel as frenetic."
Data provided by the Hudson Gateway Multiple Listing Service indicated that as of Aug. 24, there were 32 single-family homes on the market, from a 1,250-square-foot, two-bedroom attached townhouse, built in 1979 in the Arbors association, listed for $524,999, to a brand-new 4,044-square-foot, three-bedroom townhome in the Kingfield development, listed for $1.9 million. There was one multifamily home for sale, a 1,998-square-foot, two-unit building listed for $599,999. No condominiums were on the market.
There were six rental properties available, from a 1,200-square-foot, three-bedroom apartment for $2,800 a month to a 6,241-square-foot, five-bedroom house for $9,500.
The median sale price for a single-family home during the 12-month period ending on Aug. 24 was $967,500, up from $880,000 during the preceding 12 months. The median for a multifamily home was $690,000, up from $420,000 during the preceding 12 months; for condominiums, the median sale price was $315,000, down from $325,000. The median monthly rental was $3,600, down from $4,475.
The Vibe
Ms. Freund described Rye Brook as "friendly" and "low-profile." "You don't have the showiness that you do in some of the nearby towns," she said.
Residents mingle at village-sponsored events like the Rye Brook Birthday Party, Ice Cream Fridays and Winter Fest. Pets join the fun for Howl-O-Ween in the Park. "You get to know people," said Ms. Leder, a 16-year resident.
What isn't within Rye Brook can be found nearby. In the town of Rye, there is a farmers' market, and villagers have access to Rye Town Park and Oakland Beach, on Long Island Sound. Greenwich, just across the Connecticut border, is a shoppers' haven. Port Chester has an array of ethnic restaurants and the 95-year-old Capitol Theatre. The Neuberger Museum of Art (now reopened) and the Performing Arts Center (still virtual) are minutes away, on the campus of Purchase College.
The Schools
Most of Rye Brook is served by two school districts: the Blind Brook-Rye Union Free School District, which covers the village's northern 70 percent, and the Port Chester-Rye Union Free School District, which covers most of the rest. A tiny area that includes a 10-unit townhouse development toward the village's southwestern edge is zoned for the Harrison Central School District.
The Blind Brook-Rye district's 1,344 schoolchildren attend Bruno M. Ponterio Ridge Street School from kindergarten through fifth grade. The school is undergoing a $44.7 million expansion, expected to be completed next spring. From there it's on to Blind Brook Middle School and then Blind Brook High School, which share a building. This year, U.S. News and World Report<https://www.usnews.com/education/best-high-schools/new-york/districts/blind-brook-rye-union-free-school-district/blind-brook-high-school-14002> ranked Blind Brook High 25th in New York.
Of the Port Chester-Rye district's 4,538 students, Mitchell A. Combs, deputy superintendent of schools, said 6 percent live in Rye Brook. Those in kindergarten through fifth grade go to one of four neighborhood schools; most Rye Brook children attend Park Avenue School. Students converge at Port Chester Middle School for sixth through eighth grade, and then move on to Port Chester High; both schools are in Rye Brook. The district is ethnically and socioeconomically diverse <https://echalk-slate-prod.s3.amazonaws.com/private/schools/866/site/fileLinks/daf18836-ec02-4474-aca8-1619b149dac3?AWSAccessKeyId=AKIAJSZKIBPXGFLSZTYQ&Expires=1939563745&response-cache-control=private%2C%20max-age%3D31536000&response-content-disposition=%3Bfilename%3D%22PCHS%2520Profile%25202020-2021.pdf%22&response-content-type=application%2Fpdf&Signature=fFVMKd1itcYpVHXljNA8hKOfHZg%3D>: In the 2020-21 school year, 82 percent of the high school population was Hispanic; in the graduating class, 88 percent pursued higher education, and more than half were the first in their families to do so.
On 2019 state assessments, 69 percent of the Blind Brook-Rye district<https://data.nysed.gov/profile.php?instid=800000034947>'s fourth graders were proficient in English language arts and 80 percent were proficient in math, and in the Port Chester-Rye district<https://data.nysed.gov/profile.php?instid=800000034957>, 32 percent of fourth graders were proficient in English language arts and 35 percent were proficient in math; statewide equivalents were 48 percent and 50 percent. Mean SAT scores for Blind Brook High School's class of 2019 were 680 in math and 652 in evidence-based reading and writing, and for Port Chester High, 512 in math and 509 in evidence-based reading and writing; statewide means were 533 and 531.
The Commute
Commuters to Manhattan can catch Metro-North Railroad's New Haven line at the Port Chester or Rye stations (both are a few miles away; parking is easier in Port Chester). Rush-hour trains to and from Grand Central Terminal take 42 to 60 minutes. Fares are $27.50 round-trip peak, $20.50 round-trip off-peak and $300 monthly; currently all fares are considered off-peak.
Rye Brook is traversed by the Hutchinson River Parkway and a bit of Interstate 287, and is close to Interstate 95 and the Merritt Parkway. The drive to the city can be as quick as 30 minutes, depending on traffic.
The Port Chester-Rye Brook Public Library building, now nearly 19,000 square feet, was originally designed by McKim, Mead & White and opened in 1926.
The History
On a quiet street in eastern Rye Brook, one house stands apart: the William E. Ward House, a 17-room home built in the 1870s almost exclusively with reinforced concrete. Mr. Ward, a mechanical engineer, wanted to demonstrate the viability of the material for construction. And because his mother suffered from pyrophobia, he wanted to create a fireproof residence. The house's castle-like appearance, particularly its four-story turret, earned it the nickname Ward's Castle (although skeptical neighbors called it Ward's Folly).
Four generations of Wards lived in the house until it was bought by Mort Walker<https://www.nytimes.com/2018/01/27/obituaries/mort-walker-dead-beetle-bailey-cartoonist.html>, the creator of the "Beetle Bailey" comic strip and the founder of the Museum of Cartoon Art. In 1977, Mr. Walker moved his museum, then three years old, from Greenwich to the Ward House, where it remained until 1992.
The home, which was added to the National Register of Historic Places in 1976, is the oldest extant reinforced-concrete structure in the country<https://www.ascemetsection.org/committees/history-and-heritage/landmarks/ward-house>. And today it is once again a private residence.