Buff City Soap
By
admin
| | Category:
Retail
|
Comments Off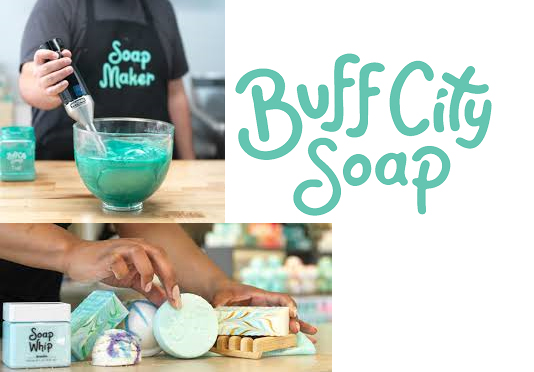 Rye Ridge Shopping Center, Plaza and South are excited to announce that Buff City Soap has signed a long term lease in the shopping center for 2800 square feet. They hope to open this Fall. This space, located between Landsberg Jewelers and Z-Life Denim Lounge was formally occupied by PetValu which closed their North American stores prior to the pandemic.
Buff City Soap provides an accessible natural alternative to typical soaps with their plant based products which are handmade daily in each store, in full view of shoppers. Most products retail for under $15 and the typical bar of soap costs $7. Buff City products include: Soaps, Bath & Shower, Body, Laundry, Foaming Hand Soap, Shave Bars, and Face Bars. Buff City is a destination that no other shopping center has and they will complement the already vibrant mix of clothing boutiques, shoes, jewelry and accessories.
Buff City Soap is a franchise, this location is owned and will be run by a local family that has shopped at The Rye Ridge Shopping Center for many years. This will be Buff City's Northeast debut as most locations are in the south and Midwest. There are over 100 locations in the franchise.
Buff City joins newly signed leases with JECTNYC, Dr. David Stern and CityMD. These new leases total almost 8500 square feet.
The Rye Ridge Shopping Center, Plaza & South are located at Ridge & Bowman Avenues in Rye Brook NY. There are over 70 fine shops, eateries, fitness boutiques and lifestyle services with ample FREE PARKING